Call Management
Call Management provides client maintenance functions that include the following:
Call center management including problem and complaint tracking
Supply requests
Stat and routine courier pick-ups
Management and history reports
Call Registration
Call Registration enables users to register calls received in the facility and provides a way to track calls by the following:
Call # (number)
Caller name
Call category
Account information
Call description
Person receiving call
Date and time of call
Incoming call process
A list of expected callers for an account can be stored in the system.
During a call, if you do not initially enter a caller, the system will show the last caller for that account. If the caller name populated by the system is not the actual caller, you can enter the correct caller name in the caller field.
You can click a lookup button to select a caller from the list of callers stored in the system for that account.
At the time of the incoming call, select the account to which the call is to be registered and enter the name of the caller.
Result: The system populates the call details, account data, and account contact fields.
Select the appropriate call category (Supply, Courier/Phlebotomy, Case/Problem, Other).
Result: The corresponding call category is displayed for entry of the appropriate information.
Call Description
The Call Description field allows users to enter notes and comments pertaining to the call. In this field, you can enter a canned message(s), a free-text description, or a combination of the two.
Call Cancel
The Call Cancel field enables users to cancel calls that are in process.
In this field, you can search for calls that are in process by various search criteria (e.g., by call number, account number, call category, and date range).
When cancelling a call, the system will prompt you to enter the reason for canceling the call.
If you attempt to cancel the call without entering a comment, a warning message will display.
Call Trace
The Call Trace field enables users to query the system for past calls.
In this field you can view details of a call and search for calls by various search criteria (e.g., by Call ID, Account ID, Caller name, CSR, Keyword, Time Frame, or Call Category).
Dropped Calls
The Call Dropped field enables users to register all calls that have been dropped before processing.
This can be used for management purposes in tracking the number of dropped calls.
Case/Problem Calls
The Case/Problem Calls function enables users to register problems into the system. Each action of a Case/Problem request may generate an e-mail to the group or individual responsible for the given problem.
E-mail notifications include a link that enables direct access to the Problem/Case from the e-mail application.
E-mail notifications can be turned on or off based on system setup. Problems can be passed from group/individual to group/individual until the issue is resolved.
Problem and Complaint tracking support
The Assigned Problems queue enables users to verify and view problems that have been directly assigned to them. In setup, you can direct the system to send a warning to the supervisor if the employee to whom a problem has been assigned is on vacation or out sick.
The Problem queue is group-specific and enables users to view problems assigned to a group(s) to which they are members.
A case/problem can be assigned to any group or user.
A user can be a member of multiple problem groups (e.g., Courier, Billing, and/or Phlebotomist).

In this scenario, a user who is a member of all three groups would have access to all queues.
Only members of a group are able to view the corresponding problem queues.
Upon assignment, a CSR Group e-mail can be sent to every member of the group.

Users can register a case/problem request.
The case/problem can be linked to an order.
Users can attach document(s) to the case/problem call.
Users can link the calls that are associated with similar cases/problems.
A problem type and subcategory are assigned to a case/problem.
Turnaround time can be defined for problem resolution.
The supervisor can be notified when a case/problem is entered.
Before a case/problem is completed, supervisory review can be required.
A client notification with the action listed can be sent automatically by the system at initial entry, completion, or both.
In Problem Type setup, users can define a client notification action for a problem type.
Calls Statistics
The Calls Statistics menu enables users to view the types of calls that come into the facility and the frequency of each. This provides users the percentage of each call type received and displays the data in two separate color-coded pie graphs, which is useful for determining the frequency and consistency of each call type for management purposes.
Click to view examples: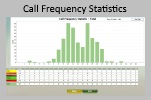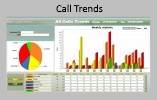 Client Reports
The Healthcare CRM / Client Reports feature provides an extensive menu of reports to cover most management needs as well as custom reports capability. The reports menu covers such options as account reports, inventory reports, call registration reports, setup reports, route reports, and phlebotomy reports. Customized reports can be created to meet those needs not covered by the standard menu. Statistical graph color schemes can be customized in many cases to create the best visual effect.
Click to view examples:
Sales Management
Sales tracking includes the following functions:
Sales Representative: This is the sales representative responsible for this account.
Source of Lead: This is the name of the source who provided the lead to this client.
Sales Management: This can be limited to accounts that have been assigned to a specific salesperson and enables that salesperson to view account information and call trace information for use in assisting outreach clinics with their needs.